Tobacco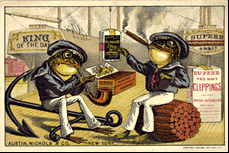 Cigars and chewing tobacco were the two main forms of tobacco used in the late 1800s. Pipes were also popular, but cigarettes had not yet reached their current popularity.
This trade card shows a fanciful scene where two frogs, evidently sailors on the ships shown behind them, are enjoying the various tobacco products of the Austin, Nichols Co., New York.
Printed by Donaldson Brothers, Five Points, N.Y., this card is shown at seventy percent of its actual size.